Fishing for Dolphin - Mahi Mahi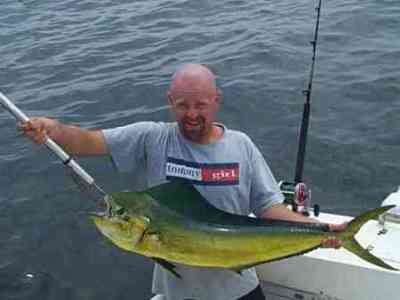 Dolphin, also known as dolphinfish or Mahi Mahi are summertime visitors along the Mid Atlantic coast. Dolphin usually appear when local waters reach roughly 70 degrees, which is normally in June. Dolphin are also found in warm water eddies, which can appear off the coast as early as late May in some areas.
Dolphin are most common from the 20 fathom line and beyond, but are occasionally caught within sight of land.
Dolphin can be fished for a number of ways. The simplest and most common is to troll around sea bass pots or lobster pots. Weed lines, floating lumber, or other objects are excellent places to look. Dolphin sometimes orient to objects as small as a coffee cup. When targeting dolphin around objects, trolling ballyhoo at about 5 knots can be productive.
When fishing around weedlines, weedless rigs may be needed. Some anglers prefer to use a small vinyl "octopus" skirt and simple leader. The hook gets hidden inside the fish with no point exposed. This rig allows anglers to troll slowly down the weed line without getting the lines fouled. The drag is left very loose so the fish can eat the ballyhoo.
Once a productive area is located, anglers often stop and cast live or cut baits to dolphin. One of the best baits for catching dolphin is a strip of fresh skipjack tuna, false albacore or bonita belly. Frozen silversides are another good bait.
It's best to keep one fish hooked up at the boat until the next angler has one on. Anglers rotate so that there is always one fish hooked and swimming near the boat. This keeps the school at the boat.
Casting lures can be productive for dolphin. A 2 or 3 oz. single hook metal jig is very effective. Flashy jigs, soft plastic lures, surface poppers, Gotcha plugs, and other small lures also work well.
Mahi Mahi is very much sought after as a food fish and their table quality is excellent. The flesh is mostly white, easy to fillet, and the fish yield a good amount of meat. Most anglers skin the fillets, which helps to remove some of the dark meat along the midsection. Mahi Mahi is excellent grilled, fried or broiled.