Grass Shrimp for Bait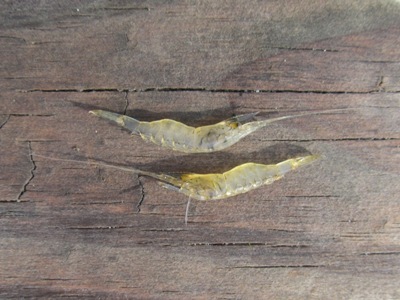 sand shrimp. Grass shrimp can be caught with baited minnow traps, by seining, or by dip netting around rocks, clumps of seaweed, or other structures. Live grass shrimp are generally not sold at bait and tackle shops although frozen or freeze-dried shrimp are sometimes available.
Although small and hard to obtain, these baits can be incredibly effective. In freshwater, they catch sunfish, crappie, white perch, yellow perch, and other species. They work especially well during the winter, when freshwater species are found near the bottom. They are also useful in saltwater for catching tidal white perch, seatrout, croakers, spot, pigfish, and other bottom feeders.
Frozen grass shrimp are occasionally used for catching winter (blackback) flounder. When winter flounder are located, anglers chum with shrimp, corn, or other foods while drifting rigs baited with grass shrimp or other baits.
Grass shrimp can also be used in a variety of other applications. They can be fished on small jigs, live-lined using appropriately-sized hooks, or several shrimp can be threaded onto a single hook. Some anglers prefer to fish them under floats, while others use Carolina style rigs or traditional top and bottom rigs.
Related Information