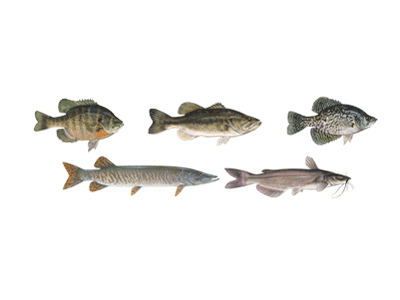 Freshwater fishing is extremely popular in the Mid Atlantic states. Depending on season, location, and personal preference, anglers may fish for black bass (largemouth and smallmouth), crappie, sunfish, white perch, yellow perch, walleye, sauger, brook trout, rainbow trout, brown trout, chain pickerel, northern pike, musky, tiger musky, channel catfish, white catfish, blue catfish, bullheads, American shad, hickory shad, striped bass, white bass, freshwater drum, carp, fallfish, suckers, gar, bowfin, snakeheads, and other fish species.
Visit regional pages to locate state by state freshwater fishing information. To learn more about freshwater lakes, ponds, rivers, and creeks, see our waterways page.
Freshwater Fishing Techniques
Related Information
Please note: Our freshwater fishing page is undergoing seasonal maintenance.