This page provides information on trailering and launching your boat safely. Step by step pictures provide tips on unloading a boat at the ramp. This procedure applies to roller type trailers. Boats equipped with float-on trailers are launched somewhat differently.
Before backing down the ramp, the boat should be prepped to unload in the staging area. This is done to make launching safe and efficient, while allowing other boaters to use the ramp as soon as the boat is clear.
Before approaching the ramp:
put the drain plug in!
remove all straps
get wheel chocks ready
disconnect the trailer lights
attach bow and stern lines
verify that the winch cable is secure so it wont pay out cable until you are ready
install electronics and any items that you need to operate the boat
make a quick check of the engine, fuel and electrical systems
show guests the location of safety equipment
make a final check of the drain plug!
Before backing the boat trailer down the ramp, it is important to verify that no boaters are waiting to load or unload before you. Have someone stay in the truck at all times if at all possible. When the tow vehicle is in position its a good idea to set the parking brake and have the driver hold their foot on the vehicle's brakes while the boat is unloading.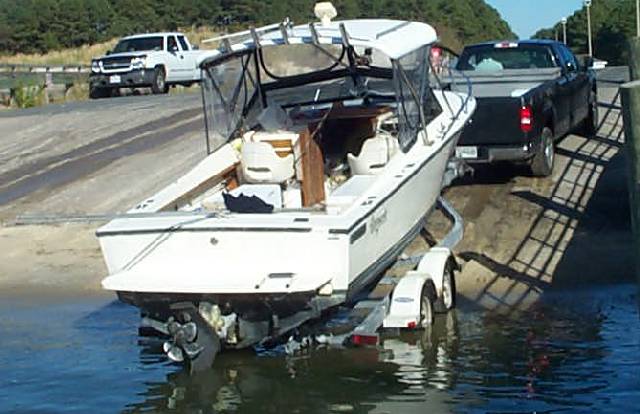 Here the boat has been backed down until the rear roller or pad is touching the water.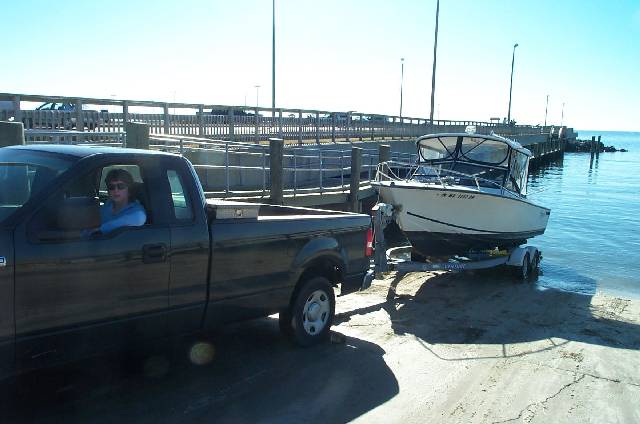 Another shot of the boat ready to unload.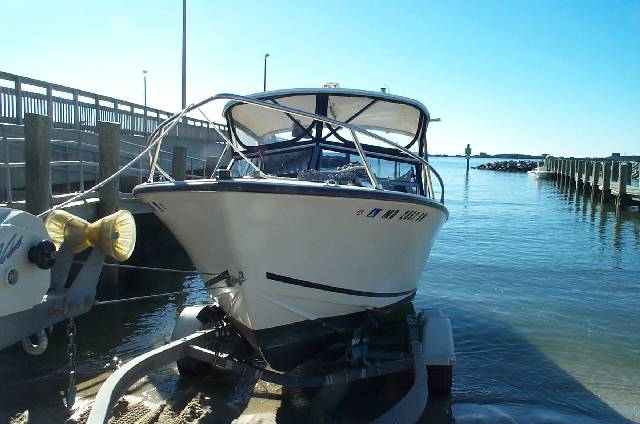 The cable has been loosened at the winch but not removed.
The bow line can be controlled by a helper
or run in front of the winch post and used to help slow the boat's travel.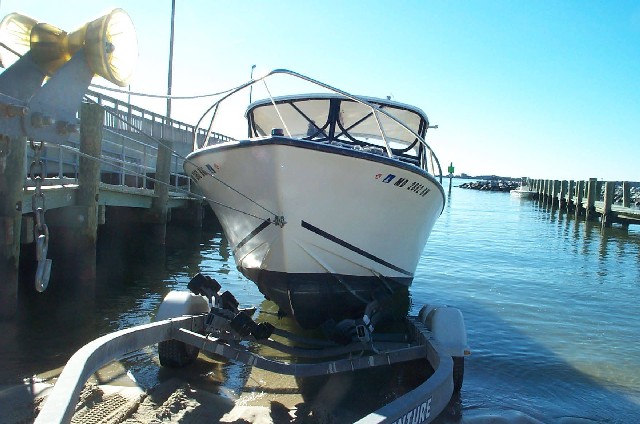 The boat pivots on the trailer and much of the trailer tongue weight is off the truck.
In some cases the trailer is actually lifting the truck.
Good wheel chocks and a driver in place are important at this point
as there may not be enough weight on the rear wheels
to hold the tow vehicle in place with the parking brake only.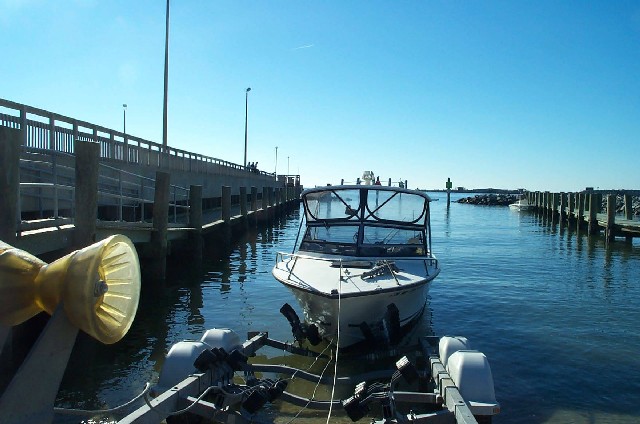 Here the boat has successfully launched and sits behind the trailer.
The winch cable can be removed and the boat can be moved back with the bow and stern lines.
When returning the boat to the trailer it is a good idea to have a few things ready when you approach the ramp.
have lines ready
begin storing loose items
have the tow vehicle keys ready
raise the engine or drive if needed
explain the procedure to guests and assign each person a responsibility
After loading the boat back on the trailer:
remove the drain plug
install the straps
stow all wheel chocks
reconnect the trailer lights
secure bow and stern lines
verify that the winch cable is secure and safety chains are on
disconnect the battery switch
remove electronics and any items that you need to store off the boat
lower antennas and outriggers
make a quick check of the boat engine, drive, tires, lights, hitch, safety chains
Related Information