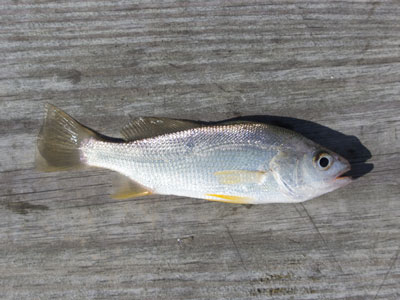 The silver perch is one of several panfish that can be used as saltwater fishing bait. Small perch can be fished whole; larger specimens can be used for cut bait.
Silver perch are usually caught by bottom fishing, seining, or cast netting, or with fish traps. They are common in coastal estuaries and tidal rivers, especially in areas with submerged aquatic vegetation.
Silver perch are related to croaker, spot, and seatrout and are often caught with these species. Silver perch have yellowish lower fins and tails, which distinguishes them from croakers and white perch.
Although most silver perch are bait-sized, anglers occasionally catch larger fish, which are suitable for the table.
Silver perch are also known as sand perch or yellowfin.
Related Information