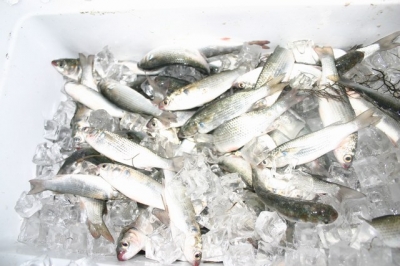 Striped mullet fish have a rounded, silvery body, blue-green back, longitudinal stripes, and a small mouth. Adults grow to around 18 inches in length. Immature mullet, called "finger mullet" are 3 to 6 inches long.
Striped mullet are found in shallow areas of local coastal bays, creeks and other estuaries. During the fall smaller fish migrate along the surf line.
Mullet are often be seen jumping to evade predators. They are one of the most common prey items of speckled trout, bluefish, red drum, and flounder.
Surf fishermen and inshore anglers often catch finger mullet for use as live or cut baits. They are also available frozen from local tackle shops.
Mullet can be fished whole or cut into strip baits. When harvesting finger mullet for bait, they should be chilled immediately and processed as soon as possible.
Related Information