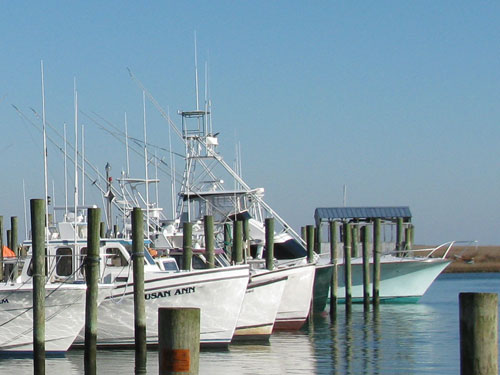 This page has information related to Wachapreague Virginia fishing charters and guides. Local charter boat captains and fishing guides specialize in offshore fishing, flounder fishing, fly fishing, and other trips.
Wachapreague Virginia Saltwater Fishing
There are areas to fish from shore or piers, facilities to launch a boat, numerous charter boats, and family attractions.
This is an excellent area for flounder fishing, offshore fishing, crabbing, clamming, and other activities.
The area is known for its excellent inshore fishing for flounder, sea trout, bluefish, striped bass, spot, croaker, sheepshead, triggerfish, red drum, black drum, sea bass, small sharks, tautog, and other species.
Farther offshore, anglers have opportunities for chopper bluefish, mako sharks, bluefin, yellowfin and albacore tuna, king mackerel, dolphinfish, wahoo, billfish, and other deep sea species.
Seasons
Fishing in Wachapreague usually begins when flounder arrive in the spring. As inshore waters begin to warm, flounder, croakers, and other fish begin to enter the area. By early summer, offshore fishing is in full swing.
Offshore, anglers can fish for big game fish along the 20 and 30 fathom curves and out to Poor Man's, Washington and Norfolk Canyons where tuna, billfish and other species are commonly caught. During fall, anglers fish for flounder, bluefish, sea bass, tautog, and striped bass or "rockfish".
Regulations
Always check local regulations for specific fishing information on recreational fishing. Anglers that charter a boat can consult their captain beforehand for the latest in requirements.
Related Information