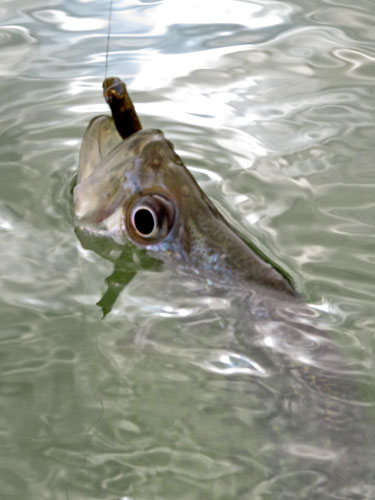 The black crappie is another member of the bass-sunfish family. Although not quite as popular as largemouth and smallmouth bass, this species has a dedicated following of anglers throughout the Mid Atlantic region.
The black crappie, like other bass and sunfish, is a specialized predator. This striking fish is marked with flecks of emerald, silver, gold, and pearl. Its coloration provides excellent camouflage, especially when it is found among dense aquatic vegetation.
Unlike largemouth bass and sunfish, the black crappie is very secretive in its movements. In many areas, crappie are rarely seen by humans until hooked. Crappie are found throughout the Mid Atlantic in lakes, reservoirs, ponds, rivers, and creeks.
They prefer areas with vegetation, especially beds of submerged aquatic vegetation. Like largemouth bass and sunfish, they tolerate brackish water and are often caught in tidal environments.
Crappie are often a seasonal catch for Mid Atlantic anglers. They school together in spring prior to spawning and feed aggressively during this phase. Once spawning begins, anglers sometimes loose contact with crappie and switch to fishing for other species.
Although summer crappie fishing can be productive in some impoundments, they seem to disappear in other areas. The odd behavior of black crappie in summer is related to their biology. They prefer cooler temperatures and when possible, will move into cooler zones during the summer season. Even when crappie are located during the summer season, anglers sometimes find that the fish bite erratically or not at all.
Black crappie are one of the few freshwater fish that are active during the cold months. In some areas, crappie fishing starts to improve during mid to late October and continues all winter. Unlike most species, black crappie bite may become active during sharp drops in barometric pressure and can be caught on windy, overcast days.
Crappie anglers are frequently split regarding the best lures, baits, and techniques. Some anglers fish for crappie with live baits only. Minnows are the most popular bait in most areas. Anglers also use nightcrawlers or crayfish for catching crappie. In coastal areas, live grass shrimp are sometimes available. These tiny baits work incredibly well, catching crappie, sunfish, yellow perch, white perch, and other species.
Crappie are also caught using artificial lures. The most popular lures are small jigs in the 1/32 – 1/4 oz. range. Some anglers prefer jigs rigged with small spinner blades while others fish simpler versions. Marabou jigs, tube bodies, curly-tailed grubs, and other jig types all produce. Some anglers report that crappie have strong color preferences. Because of this phenomenon, crappie anglers sometimes stock large assortments of jigs in a variety of colors and patterns.
When crappie are suspended in deep areas, small, shiny spoons or metal slab jigs are often effective. Depending on season, location, water conditions and other factors, they may also be caught on small crankbaits, inline spinners, or other panfish-sized lures.
Related Information