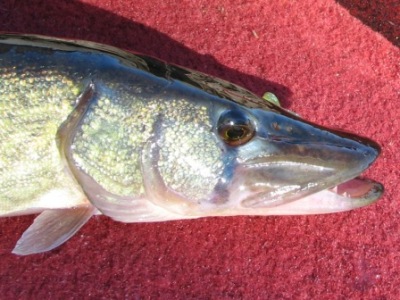 Chain pickerel are usually caught with conventional spinning and baitcasting tackle. When fishing for chain pickerel, anglers use many of the same lures that are popular for catching largemouth bass, especially buzz baits, spinnerbaits, crankbaits, and soft plastics.
In addition to bass fishing lures, a few selections are favored among chain pickerel specialists. In areas where aquatic vegetation is not overwhelming, spoons and inline spinners are two popular choices.
Like their larger cousins, the northern pike, chain pickerel are known to show a preference for red and white colored lures. Fly fishermen also catch pickerel using mid-sized to large streamers, frogs, poppers, and other patterns.
Chain pickerel are one of the few species of Mid Atlantic freshwater fish that are active in the winter. During the winter fishing season, they are often found along channel edges and other areas where baitfish are found.
Anglers targeting schools of crappie during winter or early spring often encounter chain pickerel. Although minnows and small jigs fished on ultralight outfits are typical for winter crappie fishing, these actually work well for catching chain pickerel.
Chain pickerel tolerate brackish water well and are found in tidal rivers of Delaware, Maryland, Virginia, and other Mid Atlantic states.
Related Information