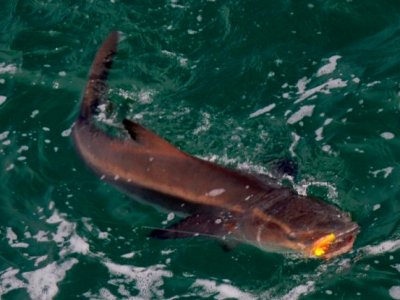 The cobia is one of the largest species of saltwater fish that can be caught in the Mid Atlantic. During the summer, cobia migrate into coastal estuaries as far North as the Delaware Bay. Cobia also occur farther off the coast, and are occasionally caught by offshore anglers.
In North Carolina, cobia are often caught from ocean piers, around inlets, and along inshore ocean shoals.
In Virginia, cobia are commonly caught along the coast as well as in the lower Chesapeake Bay. When favorable conditions exist, cobia may continue northward up the Chesapeake as far as the Old Hannibal wreck.
During seasons when warm, clean water moves inshore, cobia sometimes move up the Atlantic Coast as far north as Delaware.
Cobia are opportunistic feeders. They are often encountered by sight casters, especially around buoys, wrecks, and other structures. Structure orienting cobia are known for being timid and often frustrate anglers by refusing to bite.
Anglers sometimes entice reluctant cobia to bite by pitching live eels, spot, or other baits. They are also caught with artificial lures, especially surface poppers or plugs that create sudden splashes.
In some areas, cobia orient to inshore shoals and can be caught by bottom fishing. In the lower Chesapeake Bay, cobia are sometimes caught by fishing with sea clams, quahog clams, peeler crabs, cut fish, or other baits.
Some anglers chum with ground menhaden while bottom fishing for cobia. Chumming for cobia is especially popular near the mouth of the Chesapeake Bay in areas such as Bluefish Rock, Latimer Shoals, and the mussel beds off Cape Charles.
Related Information