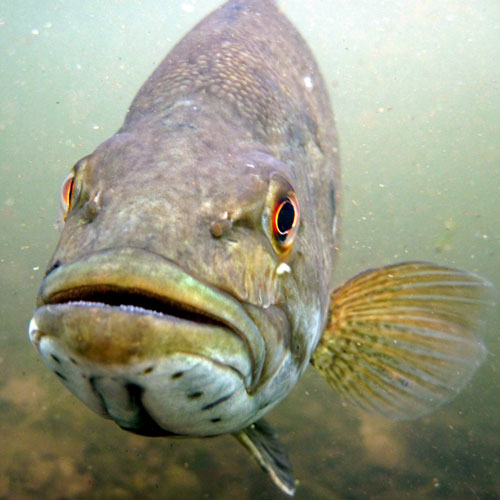 The smallmouth bass is found in every Mid Atlantic state in large lakes and flowing rivers.
Several rivers in the region are often cited for their smallmouth bass fisheries, including the Susquehanna, James, and others.
Unlike largemouth bass, smallmouths do not do well in areas where silt, low oxygen, pollution, heavy vegetation, or other factors affect water quality.
Although smallmouth bass feed on baitfish, their diets are usually dominated by crayfish and other invertebrates.
They are often caught from shorelines, and by wading, as well as fishing from boats.
Conventional spinning and baitcasting tackle dominates the fishery, although some anglers fish for them successfully with fly-fishing gear.
Smallmouth are often found together with rock bass, a close relative. In some areas, smallmouth are known to follow behind northern hogsuckers, feeding on prey that escapes the suckers' grubbing.
Anglers often debate which species of bass provides the most challenge. Although largemouth bass are usually larger in size, fishermen sometimes report that pound for pound, smallmouth bass fighter harder than other members of the bass-sunfish family.
Other names for smallmouth bass include bronzeback, black bass, smallie, and redeye.
Related Information