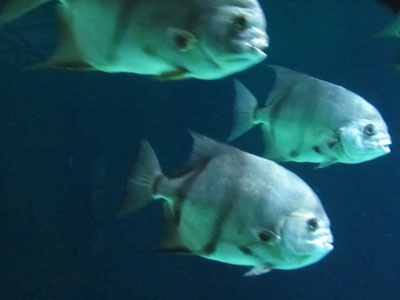 Fishing for spadefish is popular along much of the Mid Atlantic coast. The first fish usually arrive around the Chesapeake Light Tower, the nearby reef complex, and the Chesapeake Bay Bridge Tunnel in June.
Within a couple weeks fish spread to bay areas such as the Cell, the Range Light, and Plantation Light. Virginia coast towns such as Wachapreague and Chincoteague begin to see spadefish by mid to late June.
As the season progresses, spadefish usually continue northward into Maryland and Delaware coastal waters.
Spadefish are usually found around structure, including shipwrecks, artificial reefs, rockpiles, and navigational buoys. When water clarity permits, schools of spadefish can be spotted swimming in circles around structure.
Spadefish can be very challenging to catch, due to their tendency to appear and disappear, their fickle appetite, keen eyesight, and abundance jellyfish, their primary food source.
Spadefish are usually caught using light tackle, light leaders, small hooks and cut clams as bait. Some anglers will anchor near structure and chum with ground clams which seems to bring the fish near the boat.
A good setup might include 20 lb line on a medium action rod and reel. Leaders are usually 20-30 lb mono or flourocarbon line, with small live bait hooks. Some anglers anglers prefer success using red hooks for spadefish. Leaders are 18-36 inches long with a single hook on the bitter end.
Small sinkers may be added to the main line or the top of the leader. The use of weight on the line varies with current and the depth of fish. Anglers try to hide the hook in a section of clam as best possible. The rig is then casted or drifted back to the fish. Sometimes a float can be useful to limit the depth of the presentation.
Spadefish are very hard fighters and can be difficult to land on light tackle. Some fish may reach weights of 12 lbs or more, although many are 2-3 lbs. Spadefish are excellent table fare and easy to skin and fillet. The meat is mostly white, and mild tasting. Spadefish fillets are good fried, grilled or broiled.
Related Information