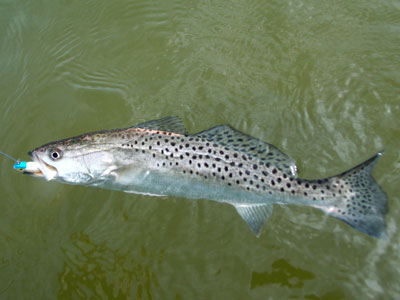 Speckled trout (spotted seatrout) are among the most beautiful saltwater fish found in the Mid Atlantic region. Speckled trout have a streamlined body, silvery gray back and white belly. Their upper body, dorsal fin, and tail fin have an iridescent sheen and black spots.
Speckled trout are caught using a variety of methods including fishing with live bait, cut bait, casting artificial lures, and trolling. Speckled trout are occasionally caught in deep water along channel edges, but most fishing occurs near shallow water grass beds.
A wide variety of baits are used to catch speckled trout, including peeler crabs, soft crabs, squid, bloodworms, shrimp, minnows, mullet, cut spot, live spot, pinfish, and even chicken breast strips soaked in peeler crab oil.
Artificial lures are also popular for shallow water speckled trout fishing. Anglers cast small jigs, soft plastics, and other lures around the edges of grass beds, stumps, points, creek mouths, oyster beds, and other areas.
Fly fishermen employ flies that mimic bay local baits such as bay anchovies, mummichogs, mullet, spot, shrimp, or blue crabs.
Speckled trout can also be caught by trolling. Anglers that troll target speckled trout, striped bass, and red drum with many of the same lures that are used for casting. Trolling along the shoreline can be effective, and is useful for locating speckled trout in a large area.
North Carolina
In North Carolina, speckled trout are caught in tidal creeks, shallow areas of the Pamlico and Albemarle Sounds, and along the Atlantic Coast. In areas where shrimp are present, anglers often fish live shrimp under a popping cork.
Speckled trout are also caught on several North Carolina fishing piers, by anglers using both baits and artificial lures.
Chesapeake Bay
Shallow water fishing for speckled trout is done in a number of areas throughout the Chesapeake Bay. In the mid bay, areas such as the lower Choptank, Nanticoke, and Honga rivers are known for being productive. Speckled trout are also found around several mid-bay islands including Holland, South Marsh, Smith, Tangier, Watts, Fox, and others.
In Tangier and Pocomoke Sounds, shallow water grass beds often attract speckled trout. On Virginia's Eastern Shore, small bayside creeks from the state line south to Cape Charles are also known for their speckled trout fisheries.
Tides are sometimes important for catching speckled trout. Many Chesapeake Bay anglers prefer fishing the last 2 hours of the incoming current and the first 2 hours of the outgoing. If this coincides with dusk, the fishing is more likely to be good.
Casting or slow trolling soft plastics or other lures is one of the most popular techniques for catching speckled trout in the Chesapeake Bay. Anglers mainly fish along grass beds, points, and other shallow water areas.
In some locations, anglers fish for speckled trout by casting bucktails to rockpiles, jetties, shipwrecks, or other structure. Popular lures include a plain white bucktail with a plastic worm and a piece of peeler crab. Other popular jigs for casting to structure include soft plastic lures in a variety of shapes and colors.
In parts of the Chesapeake Bay, speckled trout can be caught by anchoring and bottom fishing with cut bait such as peeler crab, soft crabs, bloodworms, or spot.
While fishing for speckled trout, anglers in the Chesapeake Bay also catch gray trout, croaker, striped bass, bluefish, black drum, red drum, and other species.
Related Information