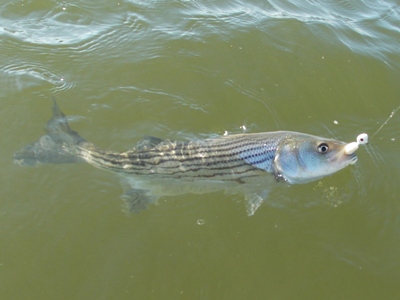 The striped bass is an icon of Mid Atlantic fishing. This heavy bodied fish is one of the most sought after species of fish found in the region.
Striped bass are found in the Atlantic Ocean, Long Island Sound, Delaware Bay, Chesapeake Bay, North Carolina Sounds, and tidal rivers. In the Chesapeake Bay and other areas, striped bass are known as "rockfish".
Striped bass are caught by trolling, jigging, chumming, live bait fishing, bottom fishing, casting artificial lures, and fly fishing.
Striped bass are commonly stocked in freshwater impoundments such as Raystown Lake. A number of Mid Atlantic states' stocking programs also produce hybrid striped bass (white bass x striped bass).
Related Information
Fishing for Trophy Striped Bass
Fishing for Chesapeake Bay School Rockfish