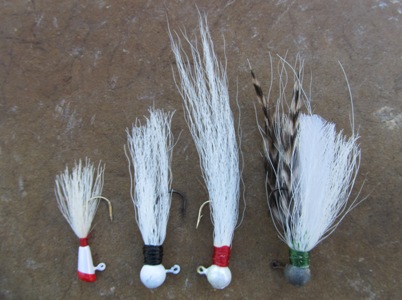 Bucktail jigs are inexpensive, easy to make, and effective for catching a wide range of freshwater fish species. To assemble bucktail jigs, anglers need jig or shad dart heads, deer tails, rod wrapping thread, and clear nail polish.
Unfinished jigs and lure making materials can be purchased from tackle shops, flea markets, online suppliers, or other sources. The same procedures shown here can be followed when using hackle feathers or synthetic hair materials in place of natural bucktail (deer hair).
While dressing jigs with deer hair, some anglers create custom lures using non-weighted hooks. Similar to flies used in fly fishing, these unique creations have a variety of applications in freshwater and saltwater fishing. Bucktail-dressed hooks can be used to create Sabiki rigs, tandem rigs, dropshot leaders, or other setups.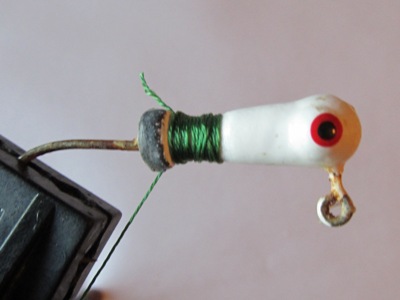 Clamp the jig in a vice.
Make several wraps of thread around the jig.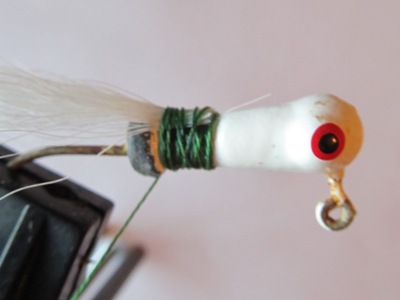 Lay a small clipping of hair in place and wrap
Continue adding and wrapping until hair goes completely around the jig.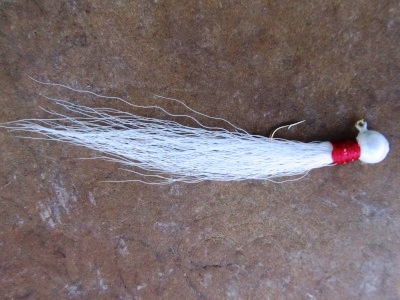 Continue wrapping thread over the hair until covered.
Apply multiple coats of clear nail polish until the thread is glossy.
After a first coat of nail polish is dry, trim any excess hair.
Recoat with polish as needed.
Related Information