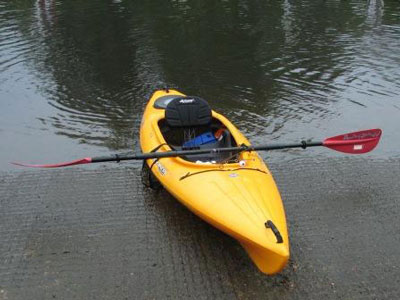 A variety of carts, buggies, and trollies are used for transporting kayaks, canoes, stand up paddleboards (SUP), and other paddlecraft over short distances.
Kayak carts and other equipment can be useful, especially when paddlecraft must be carried some distance from a vehicle or storage area.
Types of Carts
When choosing a cart or buggy, it is important to consider the type of terrain where the it will be used. Some models are equipped with small wheels which are intended for smooth surfaces such as pavement, sidewalks, and grassy areas.
Other models are equipped with specialized wheels for rolling over sand, gravel, rocks, weeds, wood, and other rough terrain.
Basic kayak carts are usually designed for moving kayaks and other small craft over short distances. Specialized models may include built in seats, stands, flotation, or other features.
Some carts feature built in straps for securing the payload. In many cases, additional strapping may be required.
Portable kayak carts can be purchased online. See the ad below for a wide selection of paddlesports carts and dollies.
Custom Carts
Some paddlesports enthusiasts choose to build their own equipment. Custom made carts are often made from surplus parts or readily available materials. Custom carts are often equipped with wheels salvaged from lawnmowers, bicycles, toys, garden carts, or other equipment.
Related Information