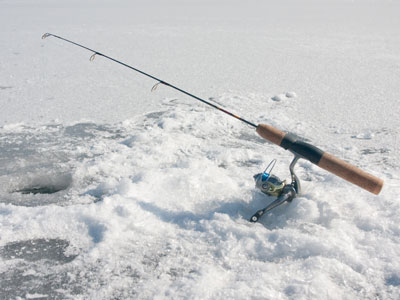 In the Mid Atlantic, ice fishing is popular in areas where cold winter temperatures allow thick ice to form. Basic ice fishing requires minimal equipment, although a knowledge of ice fishing safety is essential.
Fish Species
While ice fishing, anglers may catch walleye, musky, pike, pickerel, crappie, sunfish, perch, trout, and other species.
Tackle, Equipment, and Bait
For beginners, a basic rod and reel outfit, a handful of tackle, and a fishing license may be all that is required. Essential tackle should include swivels, hooks, weights, and line. For bait fishing, some ice fishermen prefer tip-up rigs.
Baits
In most locations, minnows are the most common ice fishing baits. Other popular ice fishing baits include nightcrawlers, insect larvae, and fish eggs.
Cold Weather Jigging
In some areas, jigging can be effective ice fishing technique. Jigging works well when fish are suspended off the bottom. To jig, the angler moves the rod up and down which gives the lure a lifelike motion.
Regulations
Several cold weather states agencies offer ice fishing booklets that explain regulations and provide fish species identification information.
Related Information