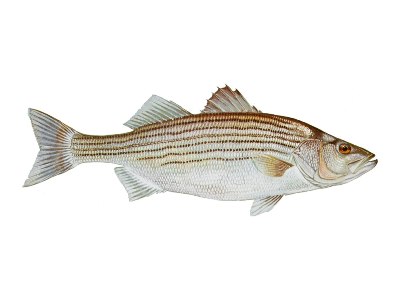 Trolling is one of the most common techniques for catching landlocked striped bass in reservoirs throughout the Mid Atlantic. In large impoundments, striped bass feed primarily on alewives, gizzard shad, threadfin shad, or other forage species. In order to target stripers successfully, anglers must troll at the correct depth, speed, and time of day.
Regardless of whether live baits or artificial lures will be chosen, size, color, and movement can be critical. For live bait fishermen, there are few options. Successful fishing usually depends a supply healthy baitfish. Some anglers prefer to catch their own bait while others purchase baits from local marinas.
Once a supply of baits has been obtained, they must be kept alive and frisky with a suitable bait containment system. Live baits must also be handled carefully and rigged correctly, otherwise they will die quickly.
Live baits are trolled using a variety of methods. A popular technique is to slow troll, using combinations of un-weighted and weighted baits. Anglers sometimes employ multiple lines in combination with planer boards, outriggers, or other equipment. Trolling live baits can be effective when stripers are actively feeding on schools of bait fish at mid-depths.
Artificial lures solve the issue of availability, although they lack the smell and taste of live baits. To improve catchability, a number of manufacturers offer scent-impregnated, soft body lures.
Some anglers experience success by using saltwater fishing lures and techniques to catch landlocked stripers. One of the best known saltwater lures is the umbrella rig, which has gained popularity on a number of freshwater impoundments.
Umbrella rigs work by mimicking a school of baitfish. Other effective lures for catching landlocked striped bass include bucktail jigs, soft-bodied jigs, spoons, and deep-running crankbaits.
Related Information