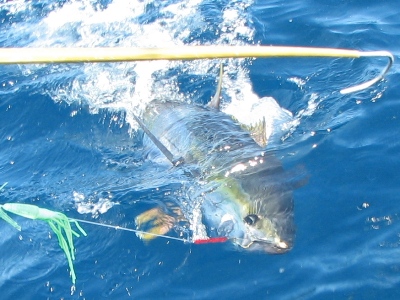 June marks the start of tuna fishing off much of the Mid Atlantic coast. Anglers from New Jersey, Delaware, Maryland, and Virginia often begin the tuna season by fishing inshore for bluefin tuna.
An extremely popular rig for early season bluefin tuna is a bird, several vinyl squid, and a green machine daisy chain on the center line way-way-way back.
In some areas, triple cedar plugs are traditional for catching bluefin tuna during the early season. Popular cedar plug colors include black, blue and white, red and white, and natural (unpainted). Other popular lures for catching bluefin tuna include small feathers, tuna clones, and green machines.
For the most part the beginning of the season is a matter of picking thru dozens of big bluefish, so simple durable lures are a must. The fancy spreader bars and high dollar lures have to wait until the bluefish move on.
The best fishing often occurs very early in the day on the inshore humps and hills. Hookups can be one after another for a couple hours or more.
By 9 am the bite is often over and when fleets of boats arrive, the fish may disperse or move lower in the water column. This is a good time to pull a #3 1/2 drone spoon on a #2 planer. The leader should be #100 or even #50 line if possible and 30 feet long with a swivel at mid-point.
As the season progresses, catches of yellowfin tuna, wahoo, dolphinfish (mahi mahi), and billfish become more common. Popular lures include ballyhoo in a variety of configurations, cedar plugs, squid daisy chains, spreader bars and other artificials.
Although mid and late season fishing is occasionally good inside the 20 fathom line, fishing usually shifts to deeper areas. Often the fish are most plentiful in 30-50 fathoms.
Tuna and other fish may orient to undersea structure, weed lines, clean water, temperature breaks, or areas where baitfish are congregated. Finding the fish is an ever-changing task and time of day, lures, and weather all play a role in success.
Related Information