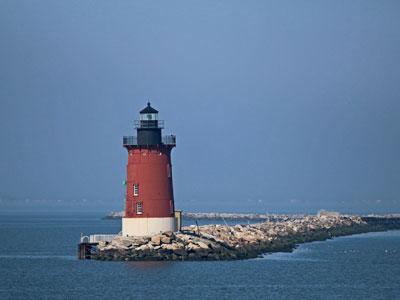 One of Delaware's oldest communities, The town of Lewes is located along the lower Delaware Bay.
Intersecting Lewes is the Lewes-Rehoboth Canal, which connects Roosevelt Inlet to Rehoboth Bay. Located along the canal are marinas, private slips, boat launching facilities, Lewes Harbor, and other attractions.
The canal is home to a diverse fleet of fishing charter boats that offer deep sea fishing, wreck fishing, inshore fishing, and other trips.
At Roosevelt Inlet, Broadkill River, Canary Creek, and Lewes-Rehoboth Canal merge and flow into the Delaware Bay. The jetty and nearby beach are popular areas for boaters as well as shore fishermen.
At Cape Henlopen State Park, beaches along the Delaware Bay and Atlantic provide walk-on access for surf fishing and other activities. The park also provides oversand vehicle access for surf fishing
Also located in the park is Cape Henlopen State Park pier. One of the area's most iconic landmarks, the pier is a popular destination for fishing, crabbing, biking, walking, and other outdoor recreation.
In 2016, a major renovation of the Cape Henlopen Pier was completed, including repair or replacement of pilings and extensive decking repairs.
Lewes is home to a number of historical landmarks. Located on the west side of Cape Henlopen is Delaware Breakwater East End Light.
Related Information