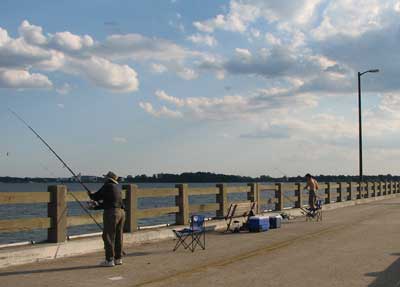 The Bill Burton Fishing Pier and state park is located on the Choptank River near Cambridge, Maryland. The pier is lighted for night fishing and stays open 365 days a year, 24 hours a day. Fishing bait is available at local tackle shops. Bloodworms, grass shrimp, peeler crab, and soft crabs are popular baits.
A variety of fish that can be caught from the fishing pier including white perch, striped bass, croakers (hardheads), spot, seatrout, bluefish, channel catfish, oyster toads, and other species.
In 2013, an artificial reef was constructed alongside the fishing pier. The reef consists of two foot-tall concrete "reef balls" which were placed on the river bottom. The igloo-shaped reef balls were built by volunteers from The Chesapeake Bay Foundation (CBF) and the Maryland Saltwater Sportfishing Association (MSSA). Prior to deployment, the reef balls were set with oyster spat which were spawned at the nearby Horn Point Laboratory.
The reef balls act as an artificial structure upon which oysters, mussels, barnacles and other benthic organisms can attach. The reef also serves as habitat for fish, blue crabs, mud crabs, grass shrimp, and other aquatic life.
The Bill Burton Fishing Pier is also known as an excellent area for crabbing. Other recreation on the pier includes bicycling, walking, jogging, picnicking, and sunbathing.
Check with Maryland Department of Natural Resources or local tackle shops for fishing and crabbing regulations.
Related Information