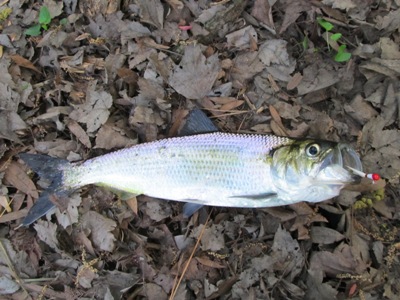 Throughout Maryland, spring runs of American and hickory shad are major events for freshwater fishing enthusiasts.
Catch and release fishing is permitted, although a moratorium on the possession of American shad, hickory shad, and river herring was in effect as of 2012.
In Maryland, shad and river herring migrate up rivers, creeks, and streams each spring to spawn.
Hickory shad begin migrating in late February or early March and remain in Maryland waters until mid May. American shad begin appearing in March, with peak runs usually occurring in May.
Several signs in nature are thought to coincide with the arrival of shad into Maryland rivers and creeks. The shad bush usually blooms about the same time that shad begin appearing in Maryland.
In some locations, bright yellow Prothonatary warblers appear along the banks of creeks about the same time that anglers begin catching shad and river herring. Dogwood also begins blooming during peak shad runs.
The Susquehanna River is by far the most famous area in Maryland for shad fishing. The tailrace section below Conowingo Dam is considered to be one of the top destinations for catching American and hickory shad on the Atlantic Coast.
Another area for catching shad in Maryland is lower Deer Creek, located within the Susquehanna State Park. During spring shad runs, the area can be crowded and parking spots often fill up. Getting started as early as possible is one way to avoid the congestion. Anglers can also fish for shad in Deer Creek by boat from Susquehanna State Park down to its confluence with the Susquehanna River.
Northeast of Baltimore, shad are caught in the Gunpowder River, from US Route 40 north to the fall line. The river can be accessed at Gunpowder State Park. Anglers can park at the Jones Road parking lot and walk to the river.
In the Patapsco River, shad and river herring run through Patapsco Valley State Park. In Southern Maryland, hickory and American shad runs occur in the Patuxent River, primarily along a stretch from Queen Anne's Bridge to Wayson's Corner.
Hickory shad runs occur in several Eastern Shore rivers, including the Elk, Wye, Chester, Choptank, Nanticoke, Wicomico, and Pocomoke. Much of the fishing occurs in smaller tributaries of these rivers, such as Tuckahoe Creek and Marshyhope Creek.
Related Information