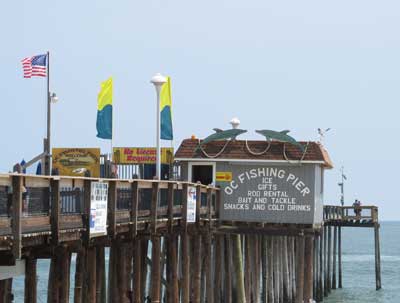 The OC Fishing Pier extends from the Ocean City Maryland boardwalk approximately 500 feet into the Atlantic Ocean.
A variety of saltwater fish are caught from the pier including spot, croaker, seatrout (weakfish), kingfish, bluefish, flounder, Spanish mackerel, pompano, cobia, jacks, sharks, and other species.
During late summer, spot and croaker are usually present around the pier. Spot are small but delicious and have a strong following of anglers. These fish are easy to catch and require only basic tackle and fishing skills.
Most anglers prefer using a basic two hook "top and bottom rig" rigged with small hooks. The best bait for spot is fresh bloodworms, cut into small pieces. They also take small pieces of clam, squid, shrimp, and other saltwater baits.
Croaker are caught using the same techniques. Some anglers prefer slightly larger hooks and baits for croaker, especially when jumbo croakers converge around the pier.
Bluefish are another summer visitor to the pier. Most bluefish are small, although trophy-class fish do show up from time to time. Bluefish can be caught using small, flashy lures, live baits, or cut baits.
Because of its unique location, the OC Fishing Pier is also popular among shark fishermen. Anglers targeting sharks usually catch spot or other small fish for use as bait.
In October 2012, the pier sustained heavy damage from Hurricane Sandy. The structure was restored to its original length and re-opened in time for the 2013 fishing season. The following winter, the pier was damaged again by a strong noreaster. Once again, the pier was repaired and re-opened for business.
Contact Information
OC Fishing Pier
401 South Atlantic Avenue
Ocean City, Maryland 21842
410-289-6033
www.ocfishingpier.com
Related Information