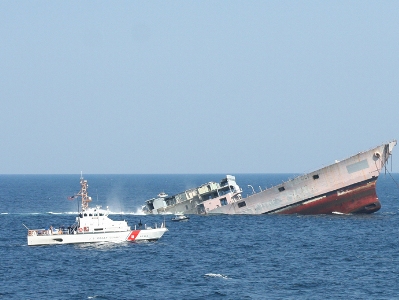 The Del-Jersey-Land Artificial Reef is a collaborative effort of three states; Delaware, New Jersey and Maryland. The reef is strategically located near the ports of Indian River (DE), Cape May (NJ), and Ocean City (MD).
The main structure of the reef is the U.S. Navy destroyer ex-USS Arthur W. Radford, which was sunk on Aug. 10, 2011. The hull of the Radford is 563 feet in length, making it the longest vessel to become a fish haven in the Western Atlantic. The Radford lies in 135 feet of water near 38 30.750′ N 074 30.700′ W.
In December, 2015, the 175 foot Shearwater was sunk in 120 feet about one-half nautical mile from the Radford. The former coastal freighter, military survey ship, and menhaden boat was sunk at approximate coordinates of 38 31.200′ N 074 30.800'W.
Anglers fishing the Del-Jersey-Land Artificial Reef have reported catches of black sea bass, red hake, Atlantic cod, tuna, and other fish.
Related Information