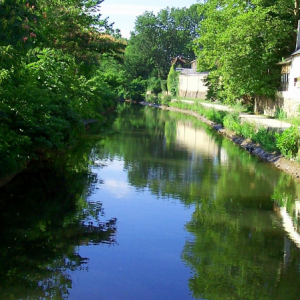 The Delaware and Raritan Canal (D&R Canal) is a historical canal that connects the Delaware River to the Raritan River. Most of the canal resides within Delaware and Raritan Canal State Park, which is operated and maintained by the New Jersey Division of Parks and Forestry.
The canal system is popular for fishing, kayaking, canoeing, and rowing. A trail along the old towpath is popular for hiking, jogging, bicycling, and horseback riding.
The 44 mile main section of the canal runs from Bordentown on the Delaware to New Brunswick on the Raritan. A feeder canal extends 22 miles from Trenton to Bull's Island.
Near the head of the canal, Bulls Island Recreation Area is one of the New Jersey's most popular recreational areas. The 80-acre forested island is a popular area for fishing, wildlife watching, hiking, and other recreation.
The Delaware and Raritan Canal includes a spring trout fishery in Mercer County. Stocked musky and channel catfish are found from Griggstown to the Raritan River.
Related Information