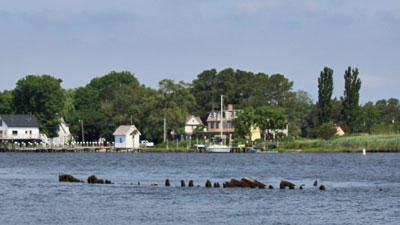 On the Eastern Shore of Maryland, a stretch of the lower Wicomico River contains a graveyard of old wooden fishing boats. Near the rural community of Whitehaven are the remains of two wooden shipwrecks which are visible at low tide. Approximately 2 miles upriver lie additional wooden wrecks in varying stages of decay.
Whitehaven Wrecks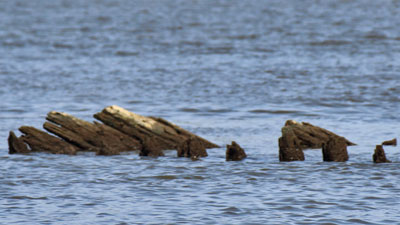 On the south side of the Wicomico River near the Whitehaven Ferry, two old ship wrecks are located near the shoreline.
During low tides, timbers protrude above the waterline. During high tides the wrecks are concealed, posing a hazard to boats that stray from the channel.
During peak tides, strong rips form near the wreck site. The wrecks act as an artificial reef, attracting a variety of fish species including striped bass, white perch, blue catfish, channel catfish, bullheads, longnose gar, spot, croakers, and others. The above water portion of the wrecks also provide resting areas for aquatic birds.
Wrecks Near Wicomico Creek
At the junction of the Wicomico River and Wicomico Creek is an area that contains old wooden fishing boats and scattered wreckage. Several abandoned vessels lie on a shoal, with wreckage protruding above the waterline during low water. The three main hulls lie upright with their bows pointed in an easterly direction.
Related Information