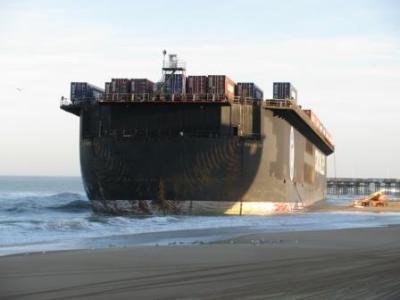 The Sandbridge Pier is a popular Virginia fishing pier. Also known as the Little Island Fishing Pier, this saltwater fishing hot spot is located approximately 15 miles south of downtown Virginia Beach.
Anglers fishing from the Sandbridge pier catch spot, croaker, speckled trout, gray trout, red drum, black drum, flounder, kingfish (whiting), pompano, pigfish, bluefish, puffers, cobia, Spanish mackerel, king mackerel, sharks, and other species.
On November 13th, 2009, the pier was nearly destroyed when the 572-foot barge LaPrincesa ran aground on the beach nearby. For several days, crews were unable to recover the barge due to severe weather.
Crews successfully pulled the barge La Princesa off Sandbridge beach on the morning of Wednesday, November 18, 2009, saving the pier from almost certain destruction.
During the storm, the Mid Atlantic area experienced severe weather from the remnants of a hurricane in the gulf including 70 m.p.h. wind gusts, high tides and flooding.
Related Information