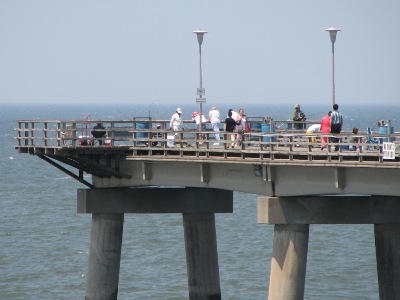 The Sea Gull pier is an excellent pier to fish from. The unique pier is located on the Chesapeake Bay Bridge Tunnel and extends into the bay. Gray trout, croakers, spot, bluefish, striped bass, Spanish mackerel, sharks, black drum, cobia, tautog, and other species are caught from the pier.
Daytime fishing can be productive and at night, bait congregates under the lights, attracting gamefish in close. Check with local tackle shops or VMRC for fishing regulations.
In late 2017, the Sea Gull Fishing Pier closed to the public for the construction of a new parallel tunnel at the Thimble Shoal Channel. The initial plans called for the pier re-open to the public in 2022. Delays in the project cause the re-opening to be pushed back to 2024.
The project includes a renovation of the fishing pier. A restaurant and gift shop near the pier were demolished, according to the Chesapeake Bay Bridge and Tunnel Commission.
Chesapeake Bay Bridge Tunnel Information Phone: (757) 331-2960
Related Information