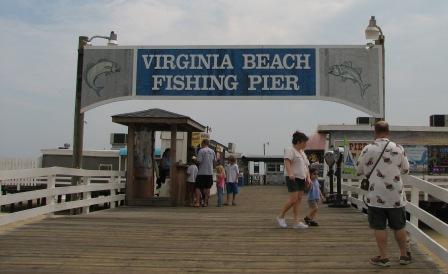 Virginia Beach Fishing Pier
15th Street & Oceanfront
Virginia Beach Virginia
(757) 428-2333
www.vabeachfishingpier.com
The Virginia Beach fishing pier is a very popular fishing spot where anglers of all ages and skill levels congregate to enjoy a fun day on the water. Other activities include catching blue crabs, lady crabs, and other sea creatures. The pier is located on the boardwalk at 15th Street in Virginia Beach, Virginia.
Fish species caught from this location include spot, croaker, pompano, kingfish (roundheads), striped bass (rockfish), bluefish, gray trout, speckled trout, red drum, black drum, Spanish mackerel, king mackerel, pigfish, pinfish, swelling toads (puffer), black sea bass, sharks, rays, and other fish.
The summer season is peak time for visiting the pier, although fishing can be good at other times. Early season fishing usually begins in late May, with anglers targeting speckled trout, striped bass, flounder, bluefish, puppy red drum, black drum, and blue crabs.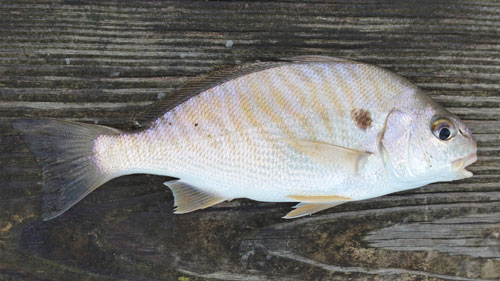 During the summer fishing season, spot, croaker, pigfish, kingfish, and other species dominate bottom fishing catches. On the end of the pier, specialists fish live baits in hopes of catching sharks, cobia, and king mackerel.
By mid summer, Spanish mackerel often show up along the pier. Known for their keen eyesight, Spanish mackerel can be a challenge to catch during the day. Anglers often target mackerel with small, flashy spoons or gotcha style jigs, especially in the early morning or late in the day.
By August, the variety of fish species usually peaks. The pier is often occupied by anglers using a variety of techniques. A popular strategy is to bring a mid-sized rod and be ready to shift between bottom fishing, jigging, casting, or live-bait fishing as conditions change.
After Labor Day, fishing pressure usually declines despite good catching. For many anglers, the fall season is the best time to visit Virginia Beach Fishing Pier. Fall fishing is usually productive, especially for bottom fishermen. In addition to spot, and croakers, fall bottom fishing may yield speckled trout, sea trout, kingfish, and other species.
Related Information