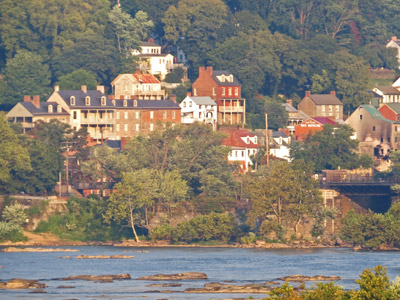 Harpers Ferry West Virginia is a popular destination for fishing, hiking, biking, river recreation, exploring, camping, and other outdoor activities. Harpers Ferry is located at the confluence of the Shenandoah River and North Branch Potomac River.
Parts of the town and surrounding lands are occupied by Harpers Ferry National Historical Park, including parcels in West Virginia, Maryland, and Virginia. A major attraction for visitors, the park is intersected by three other national parks; the Appalachian National Scenic Trail, Chesapeake and Ohio Canal National Historical Park, and the Potomac Heritage National Scenic Trail. The area is also intersected by the Virginia Birding and Wildlife Trail.
Fishing
Anglers fish for smallmouth bass, largemouth bass, walleye, tiger musky, and other gamefish. The nearby rivers also contain rock bass, bluegill, pumpkinseed sunfish, redbreast sunfish, green sunfish, American eel, white sucker, northern hogsucker, redhorse, common carp, yellow bullhead, channel catfish, and other species.
Anglers fish the Shenandoah and North Branch Potomac from shore, by wading, kayaking, and rafting. A number of local fishing guides and outfitters offer float fishing trips, one on one instruction, and other services.
Rivers – Canals
The Shenandoah River joins the Potomac River at Harpers Ferry, West Virginia. Now dry except during flood events, the nearby section of the C & O Canal is located in Maryland on the northern bank of the Potomac.
Paddlesports
Tubing, kayaking, rafting, and other paddlesports are extremely popular near Harpers Ferry. Water conditions on the two rivers range from calm water to class III, depending on location, water levels, and other factors. Popular sections include the Needles, Entrance Rapids, Bull Falls, Staircase Rapids, White Horse Rapids, and others.
Hiking
Harpers Ferry is one the premier areas in the Mid Atlantic for hiking. More than 18 miles of hiking trails are maintained by Harpers Ferry National Historical Park.
One of the most popular trails leads to Jefferson Rock where Thomas Jefferson described the view as "stupendous and worth a voyage across the Atlantic." Other hiking trails lead to scenic overviews on Maryland and Loudoun Heights.
Harpers Ferry is an important stop for long-distance hikers along the Appalachian National Scenic Trail. Here, weary hikers can find hostels, bed and breakfasts, hot meals, water, and hiking supplies.
Related Information