Delaware Bay
The Delaware Bay is one of the most important saltwater estuaries in the USA. Originating from the Delaware River, the bay widens considerably before converging with the Atlantic Ocean.
The lower Delaware Bay is bordered by New Jersey to the North and Delaware to the South. The Delaware Bay and tidal Delaware River is included in the National Estuary Program.
The lower Delaware Bay is known for its outstanding saltwater fishing. Anglers catch striped bass, weakfish, croakers, black drum, porgies, sheepshead, flounder, black sea bass, tautog, sharks, and other saltwater species.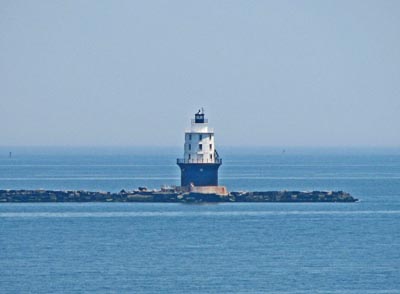 Fish are attracted to the bay's entrance by an incredibly rich eco-system. The bottom consists of shoals, sloughs, shellfish beds, shipwrecks, breakwaters, artificial reefs, and other structures. Moving across the bay floor are strong currents which form rips, eddies, and other formations in reaction to changing depths.
Although this environment attracts an abundance of fish and shellfish, The Delaware Bay can be an extremely dangerous area for boaters. Mishaps are common, sometimes resulting in loss of life and property.
The estuary is also a popular destination for hunters, kayakers, and nature enthusiasts. Located near Broadkill Beach, Prime Hook National Wildlife Refuge covers approximately 9,000 acres. The adjacent Beach Plum Island Nature Preserve is a popular area for surf fishing, beachcombing, and other activities.
Regional Information