James River Bridge Fishing Pier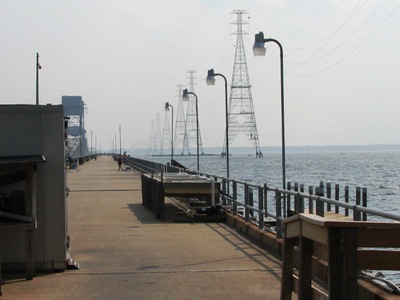 2015 James River Fishing Pier UPDATE
A 900 foot section of the new James River Fishing Pier opened for the 2015 fishing season after being closed since December 2013. The first section of Phase I of the new pier extends 900 feet into the river, is 24 feet wide at the base and transitions to 12 feet in width for the remainder of the pier. An additional section, which will complete Phase I with a total 1,252 foot pier, floating dock and gangway, is scheduled to be completed in late 2015. Phase II of the project will extend the pier a projected additional 1,400 feet.
The James River Bridge Fishing Pier is located adjacent to Huntington Park off Interstate 64 in Newport News Virginia. Anglers fishing at James River Bridge Fishing Pier may catch croaker, spot, striped bass, flounder, gray trout, red drum, kingfish, channel catfish, blue crabs, and other species.
James River Bridge Fishing Pier
618 72nd St.
Newport News, VA 23602
757-247-0364
Related Information