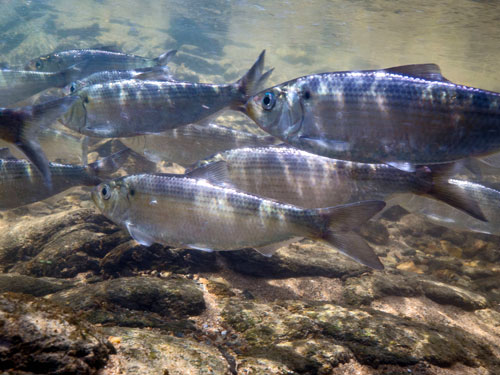 The James River in Virginia offers some of the best fishing in the Chesapeake Bay region. The river is also popular for kayaking, sailing, cruising, skiing, and other watersports.
The James River also contains important spawning and nursery areas for a number of migratory fish including river herring, shad, striped bass, Atlantic sturgeon, and others.
Upper James River
Located in Botetourt County, the Upper James River Water Trail provides resources for kayaks, canoes, and other small craft. Access sites along the trail are maintained by the Virginia Department of Game and Inland Fisheries and a number of other organizations.
The upper James River sustains populations of black bass (smallmouth, spotted, and largemouth), rock bass, redbreast sunfish, bluegill, channel catfish, flathead catfish, and others.
Smallmouth bass fishing is popular, with anglers finding productive stretches of water along much of the non-tidal river. Fishing for musky is also popular in the James River with the best action usually occurring above Lynchburg.
Tidal James River
The tidal James River and its tributaries support a strong largemouth bass fishery. The river has been the location of several top level bass tournaments. Much of the tidal bass fishing occurs in coves and tributaries between Hopewell and Hog Island.
The same region supports a niche fishery for carp, with anglers reporting occasional catches of large carp in backwater areas.
The tidal James River also produces some of best fishing for blue catfish on the East Coast. In the James River, blue catfish feed according to tidal flows, sometimes changing locations when currents reverse direction.
After decades of restoration efforts, the James River once again supports populations of American shad, a species that was once incredibly abundant. Anglers fishing the tidal James River also catch striped bass, white perch, channel catfish, and other fish species.
The tidal James River flows generally southeast from Jamestown, joins with the Nansemond and Elizabeth Rivers, and turns abruptly eastward where the river forms the port of Hampton Roads before emptying into the Chesapeake Bay.
As the river approaches the Chesapeake, saltwater species become more common. Near Newport News, the James River Bridge Fishing Pier is one of the area's most popular shore fishing spots. Along the pier, anglers catch croaker, spot, bluefish, striped bass, seatrout, and other species.
The section of the river between the James River Bridge and the Chesapeake contains several of Hampton Roads' most popular fishing locations. Despite a high volume of vessel traffic, anglers fish for a diverse range of species.
Along the stretch, two major crossings, the Monitor Merrimac Memorial Bridge Tunnel (MMMBT) and the Hampton Roads Bridge-Tunnel (HRBT) form immense artificial reefs which attract numerous fish. Between them lies Hampton Bar, an area known for its productivity.
Related Information
James River Bridge Fishing Pier