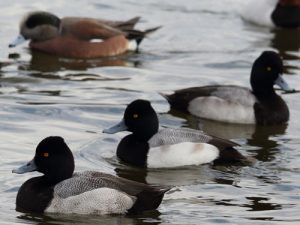 In early January 2020, aerial survey teams of pilots and biologists from the Maryland Department of Natural Resources (DNR) made visual estimates of the ducks, geese, and swans along most of the state's Chesapeake Bay, Potomac River, and Atlantic coast shorelines.
The 2020 survey teams counted about 627,000 waterfowl, which was higher than the 566,300 birds observed during 2019.
Overall, the number of dabbling ducks was higher (93,000) than last winter (64,400). However, fewer diving ducks (149,700) were observed than in the 2019 survey (182,000).
Biologists also counted more Canada geese for 2020 (327,200) than 2019 (250,200).
The Midwinter Waterfowl Survey has been conducted annually since the early 1950s and covers most of the tidal shoreline and near-shore waterfowl habitat in Maryland.
source: Maryland Department of Natural Resources