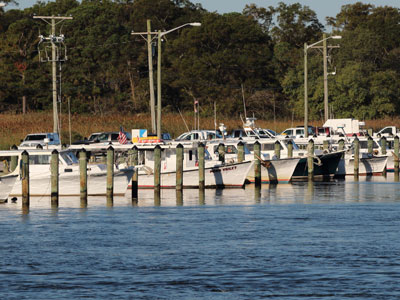 This page lists charter boats, head boats, and guides that fish the Chesapeake Bay and its many tributaries.
Boats depart from Baltimore, Annapolis, Kent Island, Rock Hall, Deale, Solomons Island, Cambridge, Taylors Island, Crisfield, Reedville, Northern Neck, Hampton Roads, and other areas.
Fishing charter captains and professional guides fish from the Susquehanna River flats to the mouth of the Chesapeake.
Many captains offer bottom fishing, fly fishing, striped bass fishing, chumming, trolling, and more.
Chesapeake Bay Charter Boats by Region
Crisfield Maryland Charter boats
Deltaville Virginia Charter Boats
Reedville – Northern Neck Virginia Charter Boats
Chesapeake Bay Charter Boat Listings
Chesapeake Bay Sport Fishing – Annapolis/Virginia Beach
North Bay Charters – Chesapeake Bay crabbing
Fin Hunter Charters – Deale and Pasadena, MD
Full Choke Charters – Solomons, MD
Galloway Charters – Solomons, MD
www.mygirlcharters.com – Chesapeake Bay fishing charters
Natural Charters – Chesapeake Bay fishing charters
www.downtimecharters.com – Chesapeake Bay striper fishing and scenic cruises
Sawyer Charters – Hoopers Island, MD
York River Charters – York River, VA
Fisher's Bay Charters – Reedville Virginia
Hogg Charters – Hampton Virginia
Upper Bay Charter Captain's Association
Chesapeake Bay Fishing Guides
Capt. Bruce Wootten – saltwater fishing, tidal river largemouth bass fishing.
Josenhans Fly Fishing – Tangier Sound, Susquehanna Flats, Chesapeake Bay Bridge Tunnel.
Related Information
Maryland Fishing Charter Boats and Guides
Virginia Fishing Charter Boats and Guides