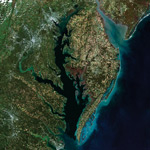 The Chesapeake Bay is the largest saltwater estuary in the USA. The Chesapeake Bay watershed encompasses hundreds of rivers, streams, and creeks from New York to Virginia.
Several of its rivers are nationally recognized for their fisheries, scenery, wildlife, and historical significance.
In the middle and lower Chesapeake Bay, Parker, Watts, Tangier, Smith, South Marsh, and Fox Islands are favorite destinations for boaters and fishermen.
Our Chesapeake Bay page is undergoing seasonal maintenance.
Related Information
Chesapeake Bay Bridge Tunnel (CBBT)