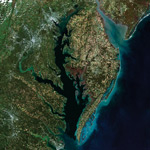 The Chesapeake Bay is the largest saltwater estuary in the USA. The Chesapeake Bay watershed encompasses hundreds of rivers, streams, and creeks from New York to Virginia.
Several of its rivers are nationally recognized for their fisheries, scenery, wildlife, and historical significance.
In the upper bay region, the Susquehanna, Gunpowder, Patapsco, Severn, Magothy, and Patuxent rivers provide recreational areas, wildlife habitats, and other vital benefits.
Along the mid bay are important cities including Baltimore and Annapolis. Also along the bay are historic towns including Chestertown, Havre De Grace, Rock Hall, Kent Island, Cambridge, Tilghman Island, Deal Island, Crisfield, and others.
In the middle and lower Chesapeake Bay, Parker, Watts, Tangier, Smith, South Marsh, and Fox Islands are favorite destinations for boaters and fishermen.
Along the western shore of Virginia are four major rivers; the Potomac, Rappahannock, York, and James. These areas are occupied by historic communities including Reedvile, Kilmarnock, Deltaville, Gloucestor, Williamsburg, Yorktown, and Hampton Roads.
At the mouth of the bay, the Chesapeake Bay Bridge Tunnel connects the Eastern Shore of Virginia to Hampton Roads.
Related Information
Chesapeake Bay Bridge Tunnel (CBBT)
Chesapeake Bay Saltwater Fishing