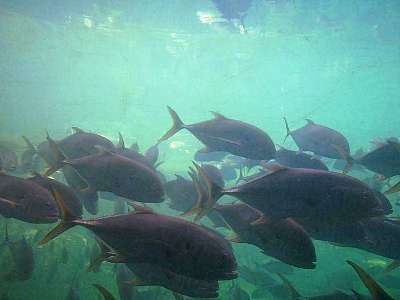 The crevalle jack is one of the largest members of the jack family that occurs in the Mid Atlantic region. The species has a variety of common names including crevalle, jack crevalle, and others.
Adult crevalle jacks have bluish-green to greenish-gold upper bodies and silver or yellow bellies. A prominent black spot on the gill cover and a black spot at the base of each pectoral fin help distinguish this species from other jacks.
During the summer, crevalle jacks appear around wrecks, reefs, buoys, and other structures. They often swim near the surface, allowing anglers to target them with eels, spot, or other live baits.
They are also caught with artificial lures, including poppers or plugs that create sudden splashes.
Large crevalle jacks occasionally congregate with similar-sized amberjack and cobia.
Related Information