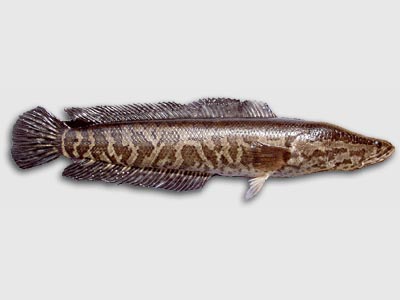 One of the most recognized aquatic invasive species in the Mid Atlantic is the northern snakehead. Snakeheads where first discovered in a Crofton, Maryland pond in the summer of 2002.
In response, officials immediately implemented an eradication plan. While draining the pond, two adult snakeheads and over 100 juvenile fish were caught and destroyed. As part of the eradication attempt, rotenone was added to three nearby ponds in order to kill any additional snakeheads in the impoundments. According to reports, the outbreak was traced back to the intentional release of two adult fish into the pond.
In 2004, several northern snakeheads were captured in the Potomac River, and it was confirmed that the species had become established. According to biologists, the range of northern Snakeheads in the Potomac watershed extends upstream to the Great Falls, and downstream to the Chesapeake Bay, including Mattawoman Creek and other tributaries.
Snakeheads have also been found in the Patuxent, Rhode, Blackwater, Nanticoke, and Wicomico Rivers in Maryland.
Snakeheads are easily caught using live baits, cut baits, or artificial lures. They are edible and said to make good table fare. Maryland, Virginia, and the Potomac River Fisheries Commission have regulations in effect regarding the possession or release of live northern snakeheads. Additionally, Federal law prohibits the transport of live snakeheads into the U.S. or across State lines.
Similar Species
Two species of freshwater fish are sometimes mistaken for snakeheads; the bowfin and the burbot. Bowfin are distinguished from the northern snakehead by their short anal fin, pelvic fins in an abdominal position, and rounded tail fin. Juvenile and male bowfin have an eyespot on the tails.
Burbot can be distinguished from the northern snakehead by several characteristics; although both species have long dorsal fins, the burbot's dorsal is split, with a short dorsal fin in front of a longer one. Burbot also possess a single barbel (whisker) beneath the lower jaw.
Related Information