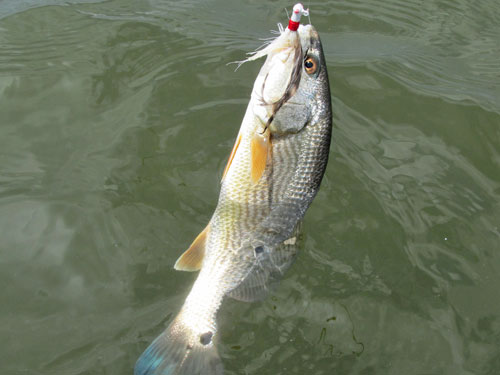 The red drum (redfish) is one of the largest members of the croaker family. Large adults can weigh over 50 pounds.
In estuaries throughout the Mid Atlantic, juvenile red drum, called "puppy drum" sometimes occur in large numbers.
Both puppy drum and trophy-class reds are often found together with speckled trout.
Anglers catch red drum with a variety of cut baits including spot, menhaden, clams, blue crab, shrimp, or other baits.
In some locations, red drum are found around shoals, shellfish beds, artificial reefs, and other areas of rough bottom.
Red drum are one of the top species targeted while surf fishing. In the surf, red drum are usually taken on cut spot, menhaden, mullet, or other oily fish.
In the Chesapeake Bay and North Carolina Sounds, red drum are often caught in shallow water. Shallow water fishing for red drum is done with live or cut baits as well as artificial lures.
Reds sometimes appear around shallow wrecks or reefs and can be caught by casting jigs or other lures.
In parts of Virginia and North Carolina, anglers occasionally catch trophy sized red drum by trolling large spoons along shoals or other productive areas.
Related Information