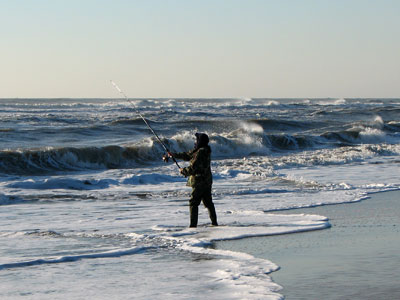 Surf fishing is popular throughout the Mid Atlantic. Although there are some differences in local fishing, most surf fishermen can walk onto any beach in the region and catch fish.
Montauk Point is the northernmost beach in the Mid Atlantic region. To the south, surf anglers will find access points in every state.
In New York and New Jersey, striped bass, bluefish, and weakfish are prime catches. New York anglers fish at several public access points along the Long Island South Shore.
Surf fishing access is plentiful in New Jersey. Top surf fishing areas In New Jersey include Sandy Hook, Belmar, Island Beach State Park, Barnegat Lighthouse State Park, and Cape May.
From the Delaware beaches to Virginia, surf fishermen encounter a mix of both northern and southern species. Popular surf fishing areas include Lewes, Delaware, Indian River Inlet, Assateague Island, Virginia Beach, and others.
Along North Carolina beaches, bluefish, red drum, and roundheads (kingfish) are common catches. In the northern part of the state, the Outer Banks (OBX) is a favorite destination. Below Cape Hatteras, the Crystal Coast is known for its surf fishing areas.
The following pages provide additional information on surf fishing basics, techniques, equipment, baits, and related subjects.
Assateague Island Surf Fishing
Related Information