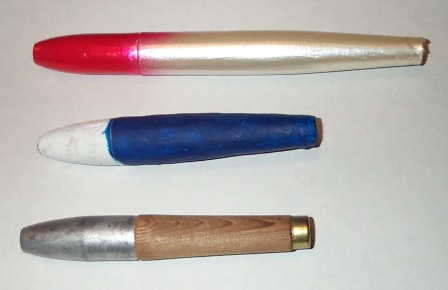 The cedar plug is one of the oldest and most basic lures for tuna fishing. Cedar plugs come in several lengths, weights, and materials. The original lures were made from cedar wood and came unpainted or "natural" as well as a few basic colors.
Variations include adding a standard squid skirt over the plugs, which gives a typical squid daisy chain a somewhat different action.
Modern versions come in every color imaginable. Essential colors seem to be natural, red/white, blue/white and all black. Cedar plugs are rigged as single lures or in sets of 3.
Lures are spaced 12-18 inches apart and the 3rd lure is sometimes separated from the first 2 lures by 18-24 inches. A 8/0 -10/0 needle eye hook is used to arm the 3rd lure.
Loosely crimp a standard crimp with a bead above it behind each of the first 2 lures, to position them on the leader. Most anglers rig them on #100-200 lb test, #150 being the most popular size.
An oldschool early season technique was to fish an entire spread of single and triple rigged cedar plugs, sometimes followed by a bird/green machine or other lure on the long center line. Trolling at high speeds of 7 to 9 knots, these unique spreads were very effective for catching school sized and larger bluefin tuna and other fish.
Cedar plugs can be also trolled at slower speeds and mixed with other lures in the spread.
Related Information