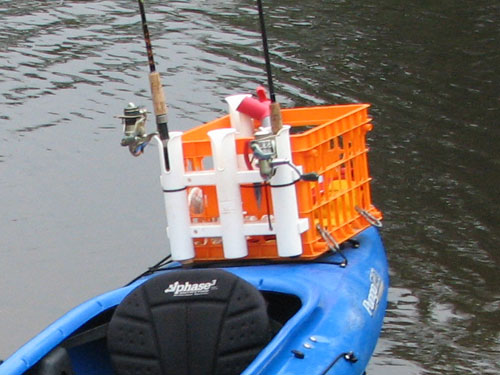 This page discusses useful gear, safety equipment, and tackle for kayak fishing.
Fishing Tackle – Equipment
Kayak fishing requires just a few essentials when it comes to tackle. A small gear bag or other container may be all that's required to store kayak fishing gear. Some anglers familiarize themselves with the types of kayaks they will be fishing in, and then obtain a container that best fits the craft.
There is usually room for a light rod or 2 and a few basic rigs and lures. Other useful gear might include rod holders, pliers, line cutters, and a hand towel. If fish will be kept, a small cooler or creel will be necessary.
Storage
Sit in kayaks often have a little space under the bow that is protected from water spray or rain. This is often a good place to store a small kayaking dry bag or tackle assortment. Store cell phones, GPS units, cameras and other sensitive equipment in waterproof pouches or heavy duty zipper bags.
Some kayaks have a covered storage compartment in the rear of the craft. Although some kayak compartments are watertight, they may not be accessible while underway.
Safety Equipment
These are some examples of safety gear for kayak fishing:
personal flotation device or PFD
helmet
eye protection
pump
air bladder
knife
pliers
chart and compass
hand held GPS unit
cell phone
hand held marine VHF radio
flares
paddle lanyard
spare paddle
floats and lanyards for all equipment
waterproof pouches
Related Information