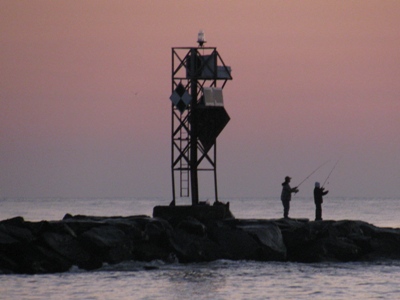 Ocean City is Maryland's only deepwater fishing port that provides access to the Atlantic Ocean. Its strategic location, combined with its popularity as a vacation resort, supports a thriving recreational fishing industry.
Ocean City charter boats offer a variety offshore (deep sea) fishing, wreck fishing, inshore fishing, and other trips.
Shore fishing is another popular option for fishermen. Access for fishing can be found at the inlet, local piers, bayside bulkheads, and local parks.
Surf fishing enthusiasts will find miles of beach access at nearby Assateague Island.
Ocean City is known for its flounder fishing and striped bass fishing.
Related Information
Ocean City Maryland Flounder Fishing
Ocean City Maryland Striped Bass Fishing