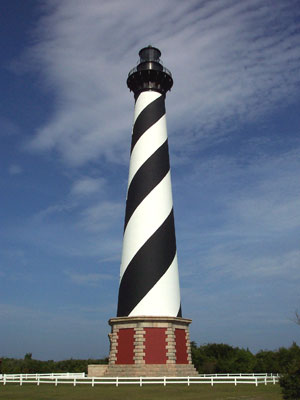 The Outer Banks region of North Carolina is known for its outstanding saltwater fishing. Surf fishing opportunities along the Outer Banks are among the best in the world, with anglers fishing for striped bass, bluefish, red drum, black drum, croakers, spot, gray trout, kingfish (roundheads), pompano, and other species.
In the Outer Banks region, surf fishing is practiced almost year round, although the best fishing is usually in the spring and fall.
Many of these same species are caught on Outer Banks fishing piers. On some North Carolina fishing piers, a specialized form of fishing allows anglers to catch large sharks, cobia, king mackerel, and other gamefish.
These trophy class fish are caught using 2 rods which are rigged together to form a trolley system. The first rod, known locally as a "Hatteras heaver" is heavy built. Anglers use these outfits to cast out large sinkers which have wire arms cast in them. These unique sinkers dig into the bottom like an anchor.
Once the anchor line is firmly dug in to the bottom, a smaller rod is deployed, baited with a live spot or other fish. A specialized clip connects the two lines together, allowing the fish to swim freely near the pier.
When a fish takes the bait, the clip releases the angler's line from the trolley line, allowing the fish to be fought on the lighter outfit. A third rod is usually kept on hand which is used for catching live baits along the pier pilings.
Closer to the beach, pier anglers fish for smaller species. During the summer season, Spanish mackerel are sometimes available to local pier fishermen. These fast-moving fish are caught using small, shiny lures. Several lure designs are popular locally and are available in area tackle shops.
Pier fishermen also bottom fish, catching spot, croaker, pinfish, pompano, and other species.
Shorebound anglers fish around bridges, inlets, and jetties throughout the Outer Banks, catching croakers, spot, bluefish, flounder, sheepshead, triggerfish, cobia, and other species.
Several Outer Banks communities have ports with ocean access. Boats depart thru Oregon Inlet or Hatteras Inlet to fish in one of the roughest areas in the world. Inshore fishing is incredibly productive. In winter, boats fish for striped bass and bluefish. During the warm season, king mackerel, cobia, amberjack, and other species are abundant inshore.
The region is also famous for its offshore fishing, especially for its winter yellowfin tuna, giant bluefin tuna, and summer blue marlin fisheries. In addition to these species, anglers catch mahi-mahi (dolphin fish), wahoo, white marlin, sailfish, and other pelagic species. Anglers also bottom fish in the ocean, catching black sea bass, snapper, grouper, tilefish, and other deep sea fish.
Related Information