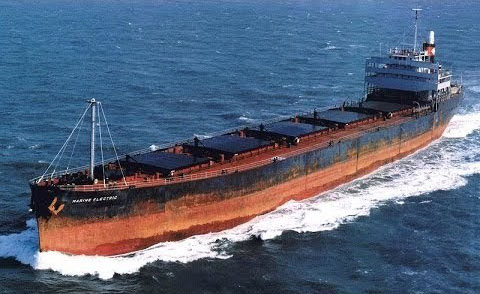 The Marine Electric was a coal carrier. She was originally built in 1944 and then refitted in 1962 to be 607 feet long. The vessel left Norfolk, VA on February 10, 1983 carrying a cargo of 25,000 tons of coal.
Seas were rough and skies were overcast. The air and water temperature was cold and the wind was blowing in excess of 40 knots. The ship carried a crew of 34.
As the ship cruised off Virginia's east shore, the weather deteriorated. By the next morning, the seas were between 20 and 40 feet, with winds up at 60 knots. By the nightfall, the ship began to founder.
An inspection revealed that the holds were filling with sea water. Around 4 PM a distress call was sent and acknowledged by the Coast Guard. A rescue helicopter from Coast Guard Air Station Elizabeth City was immediately dispatched to the scene. Upon arrival the helicopter found that the ship had sunk and 34 people were in the water.
The wreck is in two major pieces in about 125 feet of water at roughly 37 52.896N 74 46.558W. It sits on the 20 fathom line about 30 miles east of Chincoteague Island, Virginia. The wreck is visited by divers, commercial fishermen, and recreational anglers.
It is known as a haven for black sea bass, sharks, amberjacks, jack crevelle, cobia, and other species. Occasionally bluefin tuna are caught near the wreck.
The AWOIS listing on the Marine Electric follows:
HISTORY
CL298/83–5TH CGD TO AMC;
S/S MARINE ELECTRIC SUNK ON 2/12/83 IN APPROX. POS.
LAT. 37-52-47N, LONG. 74-46-00W IN APPROX. 118 FT.
(APPROX. 30 NM OFF COAST OF CHINCOTEAGUE, VA).
VESSEL OF U.S. REGISTRY, 605 FT. L, 75 FT. BEAM.
INVEST. BY CG 2/16/83, DIVERS AND SIDE SCAN SONAR.
VESSEL BROKEN IN TWO PARTS, SCATTERED DEBRIS.
LD APPROX. 70 FT. ON MAIN PORTION.
SSS SUGGESTS SHOALER LD.
REQUESTS NOS WIRE DRAG, EARLIEST CONVENIENCE.
CL583/83–RU/HE TO 5TH CGD;
HIGHEST POINT OF WRECKAGE OF MARINE ELECTRIC
Relevant USCG articles
Related Information