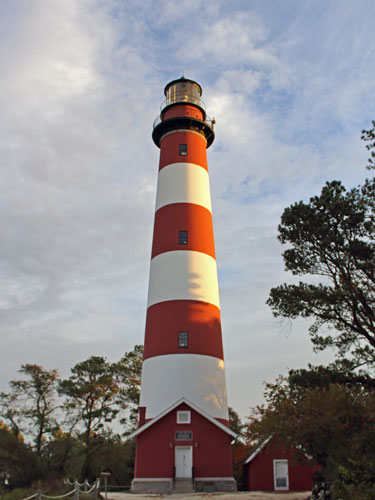 Chincoteague Island and nearby Assateague Island are among the hidden treasures on the Eastern Shore of Virginia. Once a small fishing village, Chincoteague Island has become one of the Mid Atlantic's most popular coastal communities.
Assateague Island lies within the boundaries of two states: Maryland and Virginia. Assateague Island National Seashore and Chincoteague National Wildlife Refuge occupy the Virginia section. The Maryland portion of the Island contains Assateague State Park and Assateague Island National Seashore.
Chincoteague Ponies
Chincoteague Island is perhaps best known for the annual pony swim and auction. Legend has it that one or more Spanish Galleons wrecked on Assateague Island, populating the island with what has become the world famous Chincoteague ponies, made famous in the book and movie Misty of Chincoteague.
Every year in July, the local fire department rounds up the ponies, and the herd swims across the channel from Assateague to Chincoteague. The swim, auction and carnival attract visitors by the thousands.
Fishing
Chincoteague Island offers a tremendous range of fishing opportunities. In early spring, flounder fishing is popular.
As spring gives way to summer, the weather calms and anglers have a list of fish to pursue. Inshore, flounder may linger as croaker, trout, kingfish, and bluefish become more common.
Deep sea fishing goes into high gear with sharks, bluefish, tuna, mahi mahi, wahoo, billfish, and other species inhabiting local waters.
Fall brings cooler water and with it, red drum and striped bass, or "rockfish". Wreck and artificial reef fishing is practically a year round sport when weather allows.
Hunting
The area surrounding Chincoteague Island is well suited for waterfowl hunting. Local guides offer guided duck and goose hunts using local blinds. Deer hunters can participate in sika deer hunts on Chincoteague National Wildlife Refuge.
Birdwatching
The area is famous for its bird watching opportunities. Assateague Island is a mix of beaches, dunes, marshes, lagoons, creeks, bays, grasslands, and forests. Ducks, geese, herons, shorebirds, and other wildlife wander the endless maze of waterways year round. In the winter, bird populations increase dramatically as waterfowl pour into Chincoteague National Wildlife Refuge and surrounding areas.
Scenic Cruises
This is a great way to see the island's wealth of wildlife and enjoy the sundown over Chincoteague Bay. A variety of vessels are available throughout the year. Vacationers can choose from small rental boats, guided pontoon boats, and even large ocean going cruisers. An experienced group of charter captains offer visitors a wide range of eco-tourism experiences.
Seafood
Chincoteague Island is known for its seafood, including fish and shellfish. Chincoteague oysters are prized for their salty flavor. Other locally harvested seafood includes clams, crabs, flounder, and other foods.
Local Art
Chincoteague is a treasure for art lovers. Shops display decoys and other carvings of every variation. Of particular interest are the working decoys that many carvers still produce.
Local craftsmen build fully functional duck decoys, lifelike enough to fool the wariest of flocks. Many decoys are too beautiful to actually take hunting, regardless of their intended use.
Other local art includes paintings, photographs, and other works that depict island life, nature scenes, Chincoteague ponies, waterfowl, and other subjects.
Related Information
Chincoteague Island Fishing Pier