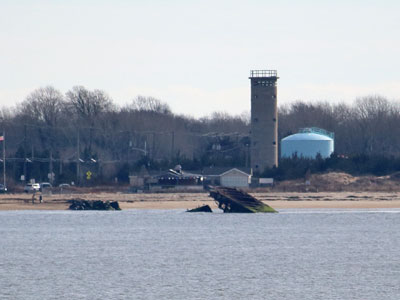 The SS Atlantus is a well known landmark along the shoreline of Cape May New Jersey. The wreck of the Atlantus is located just off Sunset Beach in West Cape May. The wreck lies in shallow water, near the shoreline.
A short distance to the north is the Cape May – Lewes Ferry Terminal and Cape May Canal. To the south, around Cape May Point, is Cape May Lighthouse.
The SS Atlantus was one of twelve concrete ships built by the Liberty Ship Building Company. The vessel was intended to be scuttled as part of a breakwater for a ferry landing at Cape May.
In 1926, a violent storm struck, breaking the ship free from its anchor and stranding it along the shoreline. Efforts to free the stranded vessel failed, and it has remained ever since. Over time, the hull has broken apart and is slowly crumbling into the Delaware Bay.
Related Information