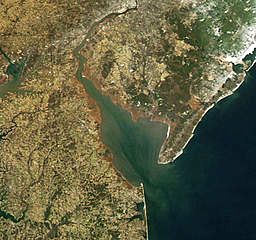 Cape May New Jersey is one of the most popular vacation resorts in the Northeast. This famous beach town is a short distance from New York City, Philadelphia, Baltimore, and other eastern cities.
Its location on the extreme southern tip of New Jersey allows fishermen and boaters to access to the Atlantic Ocean, Delaware Bay, and Chesapeake Bay (via the C & O Canal).
Along the shoreline are several notable landmarks including the SS Atlantus and Cape May Lighthouse. At the southern end of the community, the Cape May Canal provides a water route between Cape May Inlet and the Delaware Bay.
Ocean-going boats departing from Cape May fish for a variety of species. Several artificial reefs are located within a reasonable distance and offer fishing opportunities for black sea bass, tautog, flounder, and other species. For boats willing to travel farther, the Del-Jersey-Land Artificial Reef is a major attraction.
Cape May is also a popular home port for offshore fishing enthusiasts. Anglers target a number of locations including the Elephant Trunk, Hot Dog, Wilmington Canyon, and other fishing spots.
Inshore fishing is also popular, with much of the action occurring in the Delaware Bay and the rips at its convergence with the Atlantic. Because of its unique location, anglers fishing out of Cape May can enjoy inshore fishing almost year round. Striped bass and tautog are sometimes caught even in the dead of winter.
By spring, black drum, weakfish, flounder, and other species arrive in the bay. The action continues to build over the summer, with catches of more and more species. By fall, fishing usually peaks as large numbers of fish begin exiting the bay.
Related Information