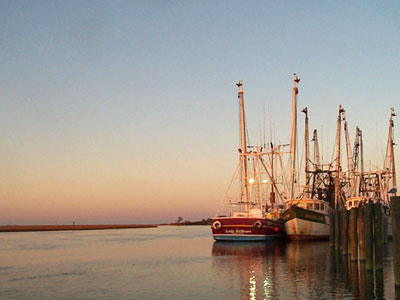 The Chincoteague Island fishing pier is a popular area for fishing, crabbing, and other activities.
From the pier, visitors can view the drawbridge, commercial fishing boats, downtown area, and other landmarks.
The fishing pier is located in downtown Chincoteague Island, near the town's historic shopping district.
Nearby are specialty shops and restaurants, a boat ramp, kayak and canoe launching area, downtown park, pavillion, parking, restrooms, and other amenities.
Once part of the old drawbridge, the fishing pier extends into Chincoteague's Main Channel, an important waterway for migrating fish.
On the south side of the pier, several old bridge pilings remain, providing additional structure for attracting fish. At night, lights on the pier attract crabs, baitfish, and gamefish.
Anglers fishing at this pier may catch flounder, striped bass, bluefish, black sea bass, gray trout, croaker, kingfish, spot, sand perch, pigfish, sheepshead, northern puffer, sharks, stingrays, blue crabs, and others.
Related Information