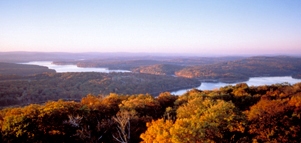 Located in Garrett County, Deep Creek Lake is the largest lake in Maryland. The lake covers approximately 3900 acres, extending 13 miles in length with depths up to 75 feet.
The lake is owned by the State of Maryland and managed by the Department of Natural Resources (DNR). Adjacent to the impoundment is Deep Creek Lake State Park. Facilities at the park include fishing piers, swim area and beach, boat ramp, picnic areas, covered pavilions, and camp sites.
A variety of freshwater fish inhabit Deep Creek Lake, including largemouth bass, smallmouth bass, rock bass, bluegill sunfish, pumpkinseed sunfish, redear sunfish (shellcracker) black crappie, walleye, yellow perch, chain pickerel, northern pike, rainbow trout, brown trout, common carp, and others. The lake has produced several state record fish throughout its existence.
Largemouth bass fishing is extremely popular on Deep Creek Lake. During the summer season, bass tournaments are typically held on the impoundment. Walleye fishing is also popular. According to Maryland's Department of Natural Resources (DNR) Fisheries biologists, walleye are the most abundant gamefish in the impoundment.
Deep Creek Lake is one of the few areas in Maryland where anglers can practice ice fishing. During the ice fishing season, anglers catch yellow perch, walleye, sunfish, pike, and other species.
Related Information